State Approves Plans for Freestanding Emergency Department in Hartselle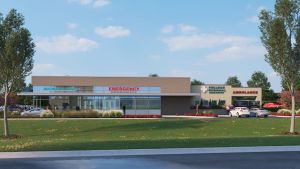 (News release) On Wednesday, April 19, the State Health Planning & Development Agency Certificate of Need Review Board approved Cullman Regional's application to build a freestanding emergency department in Hartselle. The approval sets in motion an estimated 12-month construction phase to complete the new healthcare facility, which will serve Hartselle and south Morgan County communities.
"We appreciate the CON Review Board's careful consideration and are pleased with today's decision," said James Clements, Cullman Regional CEO. "We're proud to serve the Hartselle area and are grateful for the tremendous community support shown for this project."
The 17,934 square foot facility will be located at Hartselle Health Park on Hwy. 31 in Hartselle. Just like a hospital-based emergency department, Hartselle Health Park ER will operate 24/7 and will be staffed with board certified emergency medicine physicians capable of caring for patients in critical medical conditions. It will offer on-site imaging including MRI and CT as well as lab and pharmacy services. The facility will also be equipped with an ambulance bay and a helipad.
In 2021, Cullman Regional opened Hartselle Health Park and has since added multiple outpatient services including two physician clinics, a diagnostic imaging center and an urgent care clinic.
"Freestanding emergency departments are especially important for communities without a hospital," said Dr. Bill Smith, chief medical officer at Cullman Regional. "This project means Hartselle residents will not have to leave their community for life-saving emergency services."
There are several other freestanding emergency departments in Alabama including in Mobile, Auburn and the Birmingham area.
Click here to read previous article.