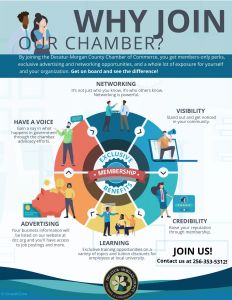 CHAMBER MEMBERSHIP boosts your business image: 
A national study by The Schapiro Group, an Atlanta-based market research firm, revealed people who know a business is a chamber member are 44% more likely to think favorably of that business. The study also found that consumers are 63% more likely to purchase goods or services from a business involved in the Chamber.
CHAMBER MEMBERSHIP connects you with others:
In today's business world, it really does matter who you know. Active members who participate in the many networking events and programs sponsored by the Chamber have the opportunity to build strong business relationships, earn referrals from other chamber members and improve visibility in the business community. Additionally, ribbon cutting events give new businesses the opportunity to introduce themselves to other Chamber members.
CHAMBER MEMBERSHIP makes your business stronger: 
Chamber members receive the resources they need to succeed in business. The Chamber offers four leadership programs to members, ranging from youth to upper-level management, and provides support for small business and minority professionals.
CHAMBER MEMBERSHIP provides workforce development:
Your Chamber membership offers access to programs that help recruit talent to your business and provides training and continuing education opportunities through our partnerships with local schools, colleges and universities. 
CHAMBER MEMBERSHIP impacts the community:
The Chamber supports many community initiatives, giving  members the ability to impact and change the future of the community. Chamber members can serve on committees focusing on education, workforce development, economic development and community planning.
CHAMBER MEMBERSHIP changes public policy: 
Banded together, Chamber members can change public policy to create a business-friendly community. Chamber membership allows businesses to have a common voice.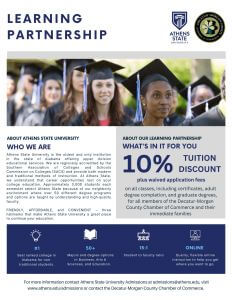 The Decatur-Morgan County Chamber of Commerce is excited to have a new learning partnership with Athens State University that provides reduced tuition for employees of our more than 800 member businesses and their immediate families.
Benefits include:
10% tuition discount on all classes including certificates, adult degree completion and graduate degrees 
Waived application fee
A complimentary evaluation of previously-earned educational credits and training/professional certifications for consideration of transfer credit
These benefits extend to all Chamber member employees, as well as their parents, spouse and children. Athens State University offers over 50 different degree programs and options in Business, Arts and Sciences and Education. Students must maintain a 2.0 GPA and provide proof of employment by each semester's payment deadline to be eligible for the tuition discount.  
Starting November 1, a one-time offer of a 20% tuition discount will be applied if a student registers and pays for the Spring 2024 semester by November 30, 2023.
Check to see if your company is a Chamber member by clicking here. For more information, click here to contact Athens State University Admissions or contact the Decatur-Morgan County Chamber of Commerce at 256-353-5312.