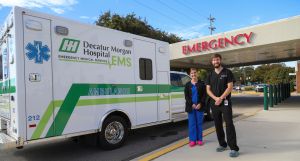 For nearly 100 years, Decatur General has been meeting the health and wellness needs of the community those we serve. It all began in 1888, when the Ladies of the Benevolent Society came together to care for members of the community affected by the Yellow Fever epidemic. When the epidemic passed, the need for a hospital was clearly evident and the Ladies began selling surplus supplies to raise the necessary funds.   In 1915, Decatur General opened its doors and began caring for patients.
The hospital known today as Decatur Morgan Hospital Parkway Campus also has a long history of care in Morgan County. Parkway Medical Center opened its doors to the public in its current location in 1974, but its origins date back to the Great Depression when Dr. W.P. Baugh opened his medical practice on Grant Street.  He was later joined by Dr. J.B. Wiley, Sr., and Dr. J.T. Smith, Jr., and the practice became known as Baugh Wiley Smith Hospital. In 1969 the hospital was purchased by Hospital Affiliates, Inc., and plans were made to move the facility to its current location on Beltline Road.
Both hospitals have seen growth and expansion over the years. Decatur General grew into a 273 bed acute care hospital with an additional 64 bed behavioral health facility, with a medical staff of more than 200 physicians and more than 1000 employees. Parkway Medical Center, also an acute care facility, became licensed for 120 beds, with a medical staff of 175 physicians and more than 400 employees. Each hospital is accredited by The Joint Commission and together serve more than 250,000 people in 5 counties.
Despite this growth, in early 2012, it became clear that there was a need for one unified, not-for-profit healthcare delivery system in Morgan County. Huntsville Hospital System purchased Parkway Medical Center, and later entered into a lease arrangement with Decatur General to form Decatur Morgan Hospital. The entity currently has four locations in Morgan County with the goal is to provide the best, most effective healthcare that meets the needs of our community while reducing duplication of services.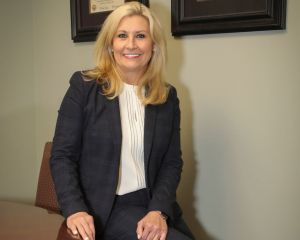 With more than 30 years of healthcare experience, Kelli Powers came on board as president of Decatur-Morgan Hospital in 2020. Prior to coming to Decatur, she spent six years as the Chief Financial Officer for the Huntsville Hospital Health System.
"We function like a city within a city. Our lights are never off, and we work around the clock. More than 1,650 people work in areas including clinical and support services such as accounting, electrical, maintenance, and security. The annual payroll is more than $90 million and most of our employees live and shop in Morgan County," said Powers. "As a not-for-profit hospital that does not have shareholders like a for-profit hospital does, we are obligated to our community, not a group of shareholders. Therefore, we continually reinvest into our facilities and services and provide more than $6 million in uncompensated care each year."
The hospital has a large medical staff of about 400 physicians to choose from in a variety of specialties. There is a comprehensive list on their website and a physician referral line at 256-973-2111.