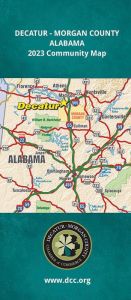 Morgan County is located in north central Alabama. Decatur, which serves as the county seat, sits on the banks of the Tennessee River and is two hours south of Nashville, one and a half hours north of Birmingham and a half hour southwest of Huntsville. In the heart of the southeast, Morgan County is within a day's drive of 50 percent of the nation's population. Cities and towns in Morgan County include: Decatur, Eva, Falkville, Hartselle, Priceville, Somerville and Trinity.  Click here to view a 2023 map of Decatur-Morgan County.
Relocation
Discover Decatur-Morgan County is your membership directory and guide to discover anything you want to know about our community, telling the story of our schools, healthcare, attractions, workforce, small businesses, neighborhoods and what makes our area stand out from the rest. They are available for free to the public at the Chamber office, in various locations around Decatur & Morgan County, and by clicking here. 
Becoming part of any community takes thought, research and insight about where you are, where you want to be and what's important to you and your family. It is a decision not to take lightly. Let us help you with that decision.
Click here to visit the Positively Decatur website to find out why Decatur is a great place to live.
These Chamber members support our relocation efforts: