Cullman Regional to Build North Alabama's first Freestanding Emergency Department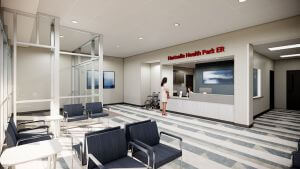 (News Release) Cullman Regional is taking steps to build North Alabama's first freestanding emergency department at Hartselle Health Park, a multi-service outpatient facility opened by the hospital in 2021.
"We've learned a lot about the Hartselle community and its healthcare needs over the last several years," said Lisa Courtney, vice president of physician and outpatient services at Cullman Regional." We're proud to be able to add quality emergency care to the services offered in Hartselle."
Hartselle Health Park had nearly 14,000 patient visits since opening its urgent care clinic, diagnostic imaging center and two physician clinics last year. The new freestanding emergency department will be constructed where the urgent care clinic is currently located. Urgent care services will relocate to a different area in the same building.
"Freestanding emergency departments are especially important for communities without a hospital," said Dr. Bill Smith, chief medical officer at Cullman Regional. "This project means Hartselle residents will not have to leave their community for life-saving emergency services."
There are several freestanding emergency departments in Alabama including in Mobile, Auburn and the Birmingham area. Like hospital-based ERs, freestanding emergency departments operate 24/7 and are staffed with board certified emergency medicine physicians capable of caring for patients in critical medical conditions. Hartselle Health Park's ER will offer on-site imaging including MRI and CT, lab capabilities and pharmacy services. The facility will also be equipped with an ambulance bay and a helipad.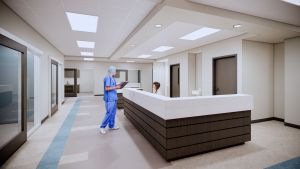 In Alabama, hospitals must seek state approval to build or add certain healthcare services including freestanding emergency departments. On Monday, Cullman Regional initiated the approval process by submitting a Letter of Intent to Alabama's Certificate of Need (CON) Board.
"In our application review the CON Board will look at many factors including community support, and the most effective way for a community to demonstrate its support is through letters," said James Clements, Cullman Regional CEO. "We're encouraging Morgan County residents who agree that this is a needed healthcare service in Hartselle to let the CON Board know."
A construction timeline for the new Hartselle Health Park ER will be announced once the CON application is approved, which may take several months. Information on submitting letters of support and updates on the project can be found here.
About Cullman Regional
Cullman Regional is a fully accredited 150-bed hospital and health system serving a five-county area in North Alabama. As the largest employer in Cullman County, the hospital has grown to include an employed physician group of more than 50 providers and a network of convenient outpatient services including a dedicated health park, urgent care, imaging, surgery, physician specialists and primary care. Cullman Regional is committed to improving the health of our community with quality, compassionate care. For more information about Cullman Regional, click here.