Chamber's State of Education Forum provides updates on local school systems and higher education partners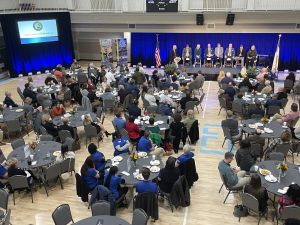 On Thursday, November 2, the Chamber hosted its annual State of Education forum at First Baptist Church in Decatur. During the breakfast event, our education partners came together to discuss critical topics like workforce development, dual enrollment and school safety. The forum was a great opportunity to hear about the progress being made in our local school systems and the successes and challenges facing our education system.
Panelists included Athens State University Interim President Dr. Catherine Wehlburg, Calhoun Community College President Dr. Jimmy Hodges, Decatur City Schools Superintendent Dr. Michael Douglas, Decatur Heritage Christian Academy Head of School Steve Hall, Hartselle City Schools Superintendent Dr. Brian Clayton, Morgan County Schools Superintendent Tracie Turrentine, Workforce Director of the ACCS Innovation Center Houston Blackwood and moderator Scott Mayo, Executive Director of Cook Museum of Natural Science.
As part of our mission in the community and our five-year strategic plan "The Partnership," the Chamber holds with the highest regard the relationships we have with our local school systems, colleges and universities. Because of the impact schools have on the business community and quality of life, the Chamber is honored to provide an audience for community and business leaders to come together and hear from our education leaders about our children's futures. We are thankful for the collaborative relationship with all of our education partners and excited about the future as we continue to prepare the next generation of leaders.
Thank you to our presenting sponsor Alabama Credit Union, and gold sponsors Ascend Performance Materials and Family Security Credit Union - 6th Ave Branch.