Breakfast & Biz Event Focuses on Workforce Retention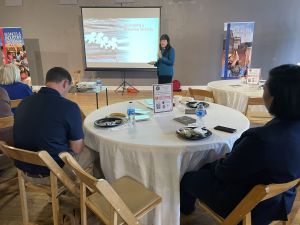 More then 40 attendees joined us for the Chamber's Breakfast & Biz event last week at the Magnolia Room. Pam Werstler with Acorn to Oak Consulting shared strategies to enhance workforce retention and creating a thriving workplace culture. Pam also offered insights on talent attraction, legal pitfalls to avoid and the non-monetary factors that influence employee engagement and commitment. Attendees also spent time networking and getting to know more about each other's businesses.
The Chamber's Breakfast & Biz professional development training and networking session provides ongoing support for our local business partners. Breakfast & Biz is presented by Redstone Federal Credit Union and our host sponsor is The Magnolia Room.