Calhoun Breaks Ground on Expansion of Advanced Technology Center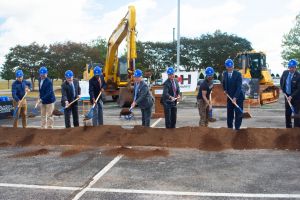 (News Release) On October 16, Calhoun Community College officials celebrated a milestone as they broke ground on the expansion of its cutting-edge Advanced Technology Center (ATC), located on the college's Decatur campus.
According to Dr. Jimmy Hodges, President of Calhoun, this expansion project was identified as a critical need through the Alabama Community College System (ACCS) ASPIRE 2030 initiative. This initiative engaged local and state legislators, college stakeholders, and the broader community to enhance Calhoun's focus on workforce training. Generously funded by ACCS, the project is being undertaken by all 24 ACCS community colleges across the state as a commitment to improving education by directing resources into essential upgrades and new constructions statewide.
"As a representative of the Alabama Community College System, we would like to express our gratitude to Calhoun for taking a leadership role in initiating the expansion of the ATC. Additionally, we commend Calhoun for selecting an architectural team capable of creating a blueprint that aligns with the requirements of our training programs. This building will enhance the college's existing training initiatives, and we at ACCS are grateful for the support of Senator Orr and his team in making this project possible," commented Mark Salmon, ACCS Chief Facilities Officer.
The new 57,200-square-foot building has a primary mission: to support training programs that will drive the growth of North Alabama's aerospace and advanced manufacturing industries. "Recognized as the #1 advanced manufacturing degree-awarding institution, Calhoun remains a powerful workforce training entity in North Alabama," commented Hodges. "We are beyond grateful and excited to be chosen to house such a facility for our students, faculty, and staff, and could not have done it without the support of our ACCS team and local legislators," he added.
"It takes a dedicated team of individuals to bring about significant milestones, and that's precisely how this building project came to fruition. I'm tremendously proud to have an outstanding team by my side and the opportunity to sponsor the $30M bill, turning today's vision into a reality. These milestones genuinely excite me, as I firsthand understand the dynamic impact they will have on Calhoun's students. Not only will they receive some of the best industry training in this region, but they'll also become skilled workers with valuable, lifelong skills that will keep our area's aerospace, engineering, machining, and manufacturing industries thriving for years to come," stated Senator Arthur Orr.
"The new state-of-the-art facility stands as a testament to Calhoun's Technologies Division's unwavering commitment to providing innovative training to our students and meeting the demands of our industry partners who seek specialized training for their future workers," says John Holley, Calhoun Technologies Dean. "The building is designed to accommodate specialized spaces for Calhoun's machine tool technology, welding, aerospace training, industrial systems and technology, Calhoun Workforce Solutions, and CDL training programs. Additionally, it will feature high-tech lab spaces, well-equipped classrooms, and modern administrative offices, all meticulously designed to facilitate optimal learning experiences," Holley added.
"Thank you, Dr. Hodges, for your leadership and direction in working hand in hand with the community to prepare the workforce and fill jobs that are in great need of skilled workers," commented Representative Anthony Daniels. "During your short time at Calhoun, you have made significant strides in the community through training, providing opportunities for those who cannot afford to attend college and maintain their households through co-operative learning opportunities as well as through job placement. This is another feather in Calhoun's cap, and I am happy to have witnessed this event," added Daniels.
The Advanced Technology Center addition will equip Calhoun students with the vital skills needed to secure high-paying careers. This expansion also opens up the opportunity for students to earn nationally-recognized certifications at an affordable cost, further enhancing their professional prospects.
Goodwyn Mills Cawood will be responsible for providing architectural, interior design, civil engineering, and landscape architecture services for the new facility, while the actual construction will be undertaken by Bailey Harris Construction. The project is scheduled for completion by the spring of 2025.