Business Community Meets to Develop Local Public Policy Agenda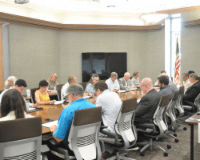 Chamber members met on September 12 to review our current Public Policy Agenda on local issues and suggest revisions to the 2024 edition. Advocacy is a key part of the work of the Chamber and we encourage our members to participate in the process as we continue to serve as the voice of the business community.
Members are invited to help develop our 2024 Public Policy agenda focusing on state issues on Thursday, October 26 at 10 a.m., in the Contractor Service & Fabrication, Inc. Boardroom. Click here to RSVP.
To review the 2023 agenda, please click here. The Chamber's Public Policy Program of Work is presented by our Annual Sponsor Adams Beverages.