Member Spotlight – P48 Storage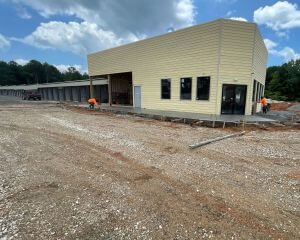 Welcome to the Chamber's Member Spotlight series where we take a moment to highlight one of our business members! Our feature company for July and August is P48 Storage. We spoke with with owners, Jon and Jamna Tucker, to ask them a few questions about their business. Read below to learn more about P48 Storage.
What year was your business founded?
We are still technically under construction, but hope to open our doors to the public very soon.
Describe your organization, including the history and services you provide?
We will provide a self-storage service at competitive rates.  We will offer secured access onto a 4.5 acre gated facility accessible right off of the Beltline which has non-climate controlled storage units ranging in size from 5x10 up to 15x30. Security includes entering an access code at vehicle gate, perimeter fencing and video surveillance. We will also offer secured uncovered parking for boat and RV storage on a very large and accessible parking lot with plenty of space for maneuverability. We will be offering climate controlled storage units, covered and enclosed boat and RV storage in the very near future, as well.
What makes you and your organization stand out? 
Our facility is located on the Beltline and Gordon-Terry Parkway (Hwy 24) and is five minutes from downtown Decatur or Ingalls Harbor on the Tennessee River and 10 minutes from the I-65/565 corridor.  We will also be offering very competitive rates during our Grand Opening later this summer.  Customers will have 24-hour accessibility to all units which can be rented online through our website or at our on-site office during normal business hours. We offer a free lock with each unit rental in addition to autopay, insurance and online account management for customer convenience.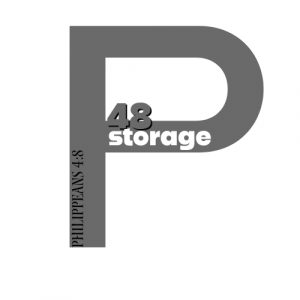 How has your organization changed in the last year?
Possibly the biggest single change for the company over the past year has actually been the name.  Picking a name for a new company can sometimes be a bit of a moving target, and it certainly was for us. When we first began construction, we decided on a name that indicated where we are located.  That didn't pan out because that name was already taken.  We made a slight modification to that name to make it unique, but it turned out that it wasn't as unique as we had hoped.  It was brought to our attention that the business name was actually quite confusing because of the number of other businesses in the area with very similar names, so we changed it.  The new name of the business reflects principles and values we aspire to in life and business and is based on a passage in the Bible, Philippians 4:8.  We are P48Storage.
What do you see for the future of your company?
Over the past six or seven years, the storage industry has experienced a very interesting and unique market which resulted in a lot of transactions in facility ownership. We are not building to sell.  We are building to stay.  The plan is to build out the 4.5 acre storage facility with all kinds of storage accommodations from non-climate controlled units to climate controlled units, covered parking, and enclosed boat and RV storage. That construction will likely be completed by 2026. We will, Lord willing, continue to develop the rest of the 18 acre property with warehousing, store frontage facing the Beltline, as well as office space in an effort to meet the ever-growing demand for storage for consumer, commercial and industrial needs.
What's the best business advice you've been given?
Start early, build conservatively, watch your interest rates and only pay for work rendered or materials delivered.