Chamber's Excellence in Leadership Announces 2023-2024 Class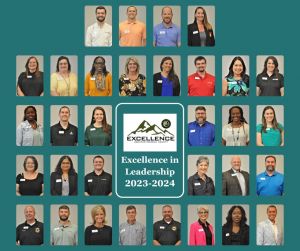 Excellence in Leadership, the Decatur-Morgan County Chamber of Commerce's adult leadership development program, kicked off this year's class on August 31 at The Magnolia Room in Decatur. The class consists of 37 professionals from businesses, industries, healthcare providers, municipalities, colleges and non-profit organizations. Chamber members nominate individuals from their own workforce to participate in the program.
The Excellence in Leadership program was established more than 30 years ago to identify, educate, develop and network existing and emerging leaders with the goal of enhancing growth in the area business community.
The class will meet once a month, with day-long sessions focusing on single topics including healthcare, economic development, education, tourism, city and county government, state government, law enforcement and social services. The class also includes a community service project, where members select an area non-profit to support. The program will wrap up with a graduation event in May 2024.
More than 1,300 professionals have graduated from the program. The presenting sponsor of Excellence in Leadership is Nucor Steel Decatur.
2023-2024 Class
John Baggett, Interstate Billing Service
Trey Bailey, 3M
Camila Barco, United Way of Morgan County
Ashley Beasley, CAPNA
Brian Beidleman, Hubbard & Drake
Amanda Berish-Cable, Tropical Smoothie Cafe
Charlene Brueggeman, Redstone Federal Credit Union
Tricia Collins, Eagle Consulting & Counseling
Amy Cook, Morgan Stanley
Liz Couch, Deep South Construction Pros
Taura Denmon, Decatur Housing Authority
Kim Dove, NARCOG
Faith Fletcher, River Bank & Trust
Eric Fowler, MarMac Real Estate
Julie Green, MarMac Real Estate
Rachel Hale, Jackson Plumbing, Inc.
Charla Hill, CAPNA
Chad Hutton, CB&S Bank
Jeni Jordan, TTL, Inc.
Alan Kelley, Calhoun Community College
Sharalee Little, CAPNA
Mary Ella Littrell, Tucker, Scott, Bell & Marthaler, LLC
Kim Parker, Calhoun Community College
Falguni Patel, NARCOG
Logan Reed, Consolidated Electrical Distributors (CED)
Lori Reed, Renasant Bank
William Reid, Contractor Service & Fabrication, Inc.
Zac Richardson, Eva Bank
Brandon Sivley, Decatur Fire & Rescue
Josh Sloan, City of Decatur
Mary Springer, Limestone Building Group
Nathan Steele, Calhoun Community College
Tracy Thornton, Decatur Fire & Rescue
Ameya Vaidya, 3M
Janelle Welch, Glee
Nathan Weldon, Goodwyn, Mills & Cawood, LLC
Jessica Williams, 3M
Jon Wood, 3M
Philip Wright, The Grisham Group, LLC