City of Decatur Hosts Second Public Meeting On Bridge Feasibility Study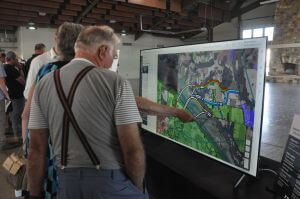 On August 31, The City of Decatur held a second public meeting at Ingalls Harbor Pavilion to obtain input and feedback regarding the Tennessee River Bridge Feasibility Study. Residents who attend the meeting were able to look at six possible routes for a new Tennessee River bridge and four possible improvements to the current U.S. 31 causeway. According to the Decatur Daily, approximately 200 people attended to meeting. Click here for more information and to see the potential routes.
The first meeting was held in May. The City of Decatur has received a $1 million grant from the Appalachian Regional Commission and the city is providing $1 million in matching funds for the feasibility study that is being conducted by TTL, Inc.
The comment period will be open until October 1, 2023. Comments can be submitted by clicking here for a comment card or mail to: TTL, Inc. Decatur Bridge Comments 3516 Greensboro Avenue Tuscaloosa, AL 35401 or Decaturbridge.comments@ttlusa.com.