Calhoun, NC3 and Trane Collaborate to Address Rapidly Growing Industry Demand in HVAC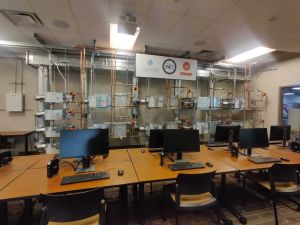 (News Release) Calhoun Community College, in collaboration with the National Coalition of Certification Centers (NC3) and Trane® - by Trane Technologies, hosted an open house ceremony on Tuesday, August 29.
According to recent data from the U.S. Bureau of Labor Statistics, the heating, ventilation, and air conditioning (HVAC) field is projected to experience a remarkable 5 percent employment growth over the next eight years. With an estimated annual average of 40,100 job openings for heating, air conditioning, and refrigeration mechanics and installers until the year 2031. This new collaboration was strategically created and positioned to tackle this escalating demand in the HVAC industry, and signifies a crucial step towards preparing a highly-skilled workforce to help fill the shortage of a rapidly evolving sector.
"We are enthusiastic not only about this remarkable new partnership but also about the newly installed equipment that our students will be able to train with. This equipment is top of the line and is an exact replica of the equipment they will work on once they obtain employment in the HVAC industry," said Dr. Jimmy Hodges, Calhoun President. "At Calhoun, we take pride in this remarkable partnership and feel honored to collaborate alongside NC3 and Trane. This program will truly make a significant difference in the lives of our students, as it offers them an opportunity to gain the skills needed for a prosperous career in the HVAC industry," he added.
Students enrolled in the program will receive holistic, theoretical and hands-on training in the newly updated state-of-the-art facility, which features equipment that helps teach energy-efficient heating, ventilating, and air conditioning systems, advanced controls, as well as the latest cutting-edge technologies used in current businesses.
"Trane is committed to uplifting and preparing people for in-demand careers in the HVAC industry – that includes working with leading organizations like Calhoun Community College and NC3 to create effective learning environments that prepare students for real-world applications," said Brian Thorstad, Alabama area general manager, Trane. "We are proud to support Calhoun's new building automation system lab, which will help advance career and technical education in the community and further develop the next generation of building automation system experts." Said Thorstad.
This fast-track short-term certificate is designed to be completed in one academic semester, which allows those who successfully complete the program to enter into the workforce as quickly as possible.
"NC3 is proud to collaborate with Calhoun Community College and Trane to fill the gaps in skilled labor," stated Roger Tadajewski, Executive Director at the National Coalition of Certifications Centers (NC3). "By uniting academic institutions, industry leaders, and certification centers, we are providing students with the practical knowledge and hands-on training that will make them valuable assets to the workforce."