Miranda Runion Named Commodore of the Month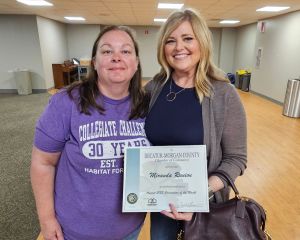 Thank you to Decatur Morgan Hospital for hosting our monthly Commodore meeting today at the Decatur General Campus. President Kelli Powers welcomed the group and Vice President of Development Noel Lovelace explained how the Decatur Morgan Hospital Foundation provides support to the hospital. They toured the campus after a great lunch to learn more about the services offered such as labor and delivery.
Congratulations to Miranda Runion with TTL, Inc. for being named the Greater Morgan County Builders Association Commodore of the Month for August.
This awesome group of more than 40 professionals volunteer their time and expertise to welcome and mentor new members, build membership and raise community awareness of Chamber activities and benefits. The Commodore program is presented by Redstone Federal Credit Union.
Click here to see our Commodores and learn more about the program.