Emerging Leaders: Benefits and Risks of Artificial Intelligence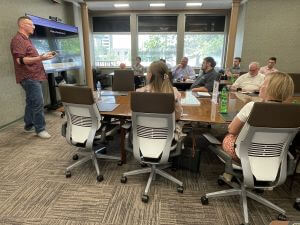 We had a great turnout on August 2 for our Emerging Leaders event at the Chamber. Bryan Clark, owner of 3 Paths Marketing, discussed the benefits and security risks of using Artificial Intelligence (AI) both personally and professionally. Bryan has taken several AI courses through Courseera and Code Academy and has used AI to generate thousands of prompts across different business niches & departments.
AI is a rapidly growing field with the potential to change the way we interact with technology. As it continues to develop, it is important to understand both the potential benefits and risks associated with its use. Bryan also shared how to use AI and gave examples of how to use the information from AI and best practices.
Emerging Leaders welcomes anyone to these events to grow as a leader and connect with other young professionals in the area. Our next Emerging Leaders event will be on Wednesday, October 4.