Leadership Programming Wraps up 2022-2023 with Graduations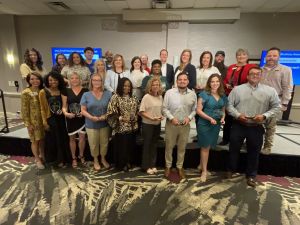 Excellence in Leadership, Edge Student Leadership and Equip Student Leadership each completed their program years with graduations, recognitions and an understanding they have an opportunity to become more engaged in their community.
The Chamber's Excellence in Leadership class gathered on April 11, for Decatur Now and Then Day. They heard from Morgan County Commission Chairman Ray Long and Decatur City Councilman Carlton McMasters on updates within our community. Dean of Technologies John Holley with Calhoun Community College reported on talent development and recruitment and Decatur Planning Commission Chairman Kent Lawrence provided the latest on residential development. The group then took a tour of Old State Bank with Judge David Breland, program coordinator of the City of Decatur's Historic Preservation Commission. They then took a bus tour of the Old Town District listed on the National Register of Historic Places with local historian Peggy Allen Towns. After lunch, the class heard from sisters Libby Sims Patrick and Sheri Sims Hofherr about how they are transforming the historic McEntire home into a boutique hotel with a rooftop bar and lounge, and a café.
Excellence in Leadership met for Leading the Way Day on May 3, which was the last meeting for this class before graduation. They heard from John Joseph with Launch 2035, Kelly Thomas with Decatur Downtown Redevelopment Authority, Decatur City School Board of Education member Doug Bachuss and Dan and Carol Beth Durbin with Durbin Leadership, LLC. The class took a field trip to Country Tacos who provided a delicious, authentic Mexican lunch.
The class was honored with a graduation ceremony at the Small Business Awards Celebration Luncheon on May 10th.
On June 6, the Excellence in Leadership class met in the Contractor Service & Fabrication, Inc. boardroom to present checks for $1,590 to three local non-profits: Hands Across Decatur, Neighborhood Christian Center and PACT (Parents & Children Together). The funds were raised as part of their class project, a charity dinner event held in March. Excellence in Leadership is presented by Nucor Steel Decatur and Gold Sponsors are the City of Decatur, Durbin Leadership, LLC and Shawn D. Garth, Realtor.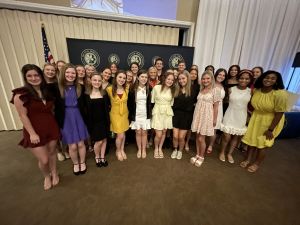 On April 23, Edge Student Leadership, the Chamber's eight-month leadership program for 10th and 11th graders from across Morgan County, celebrated their graduation with a dinner and ceremony at Burningtree County Club in Decatur. Following team presentations of their service projects with area non-profits, Carol Beth Durbin, Chairwoman for Edge Student Leadership and co-owner of Durbin Leadership, LLC, shared about the year from her perspective to more than 80 students and parents.
Sydney Brown, a sophomore at Austin High School, was selected by the class as the Mary Shaw Ozier Spirit of Leadership Award winner and was honored at the graduation ceremony. The award was presented by last year's winner and is sponsored by Horizon Point Consulting, Inc. It is given to the Edge student that best exemplifies a spirit of leadership and commitment to the program.
This program presented by Nucor Steel Decatur exposes students to leadership opportunities, provides the tools necessary to develop individual leadership skills and encourages students to be a positive influence in their schools and communities. Bunge Corporation, Joe Wheeler EMC and the Morgan County Commission are Gold Sponsors for the program.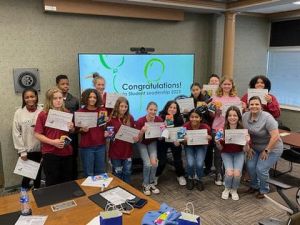 The Chamber's Equip Student Leadership program, which is made up of 22 eighth grade students from Morgan County, Hartselle and Decatur City Schools, toured two local facilities in April. They first heard from Plant Manager Victor Pacheco about all the products the Bunge Corporation helps produce. They then headed to the Alabama Robotics Technology Park for a tour. The students heard about how the facility provides hands-on experience to familiarize trainees with the latest automation and robotics equipment. Companies within the robotics industry can send their employees to the training at no charge. After the tour, the class had lunch from Contributing Sponsor Whitt's Barbecue at Pryor Field Airport Authority followed by a presentation from Adam Fox, Airport Director of Operations. Adam discussed careers and jobs in aviation, the history of the airport and the path he took to get to where he is today. They wrapped up the day with a bus tour of the airport which included getting to see planes fly in and out.
On April 27, the students met for their final session that started with a tour of Polyplex USA in Decatur. Rebecca Tanksley and Josh Henderson welcomed the students with an overview of plant safety and explained all the products that use the film made at the Decatur plant. The students then toured the plant and saw the film in production from start to finish. Thank you to Polyplex USA for hosting us at their facility. The students learned about various positions such as blasting, painting, welding and mold maintenance throughout the tour.
After lunch from Buffalo Luke's, the students heard from the Morgan County Sheriff's Office VICE Narcotics Unit. They discussed making good decisions as they enter their high school years. They wrapped up the day with a graduation ceremony that included cake and presenting each student with a certificate of completion. Equip Student Leadership is made possible by presenting sponsor Nucor Steel Decatur and Gold Sponsor Bunge Corporation.