Emerging Leaders Event Provides Tips on How to Grow Your Brand on Social Media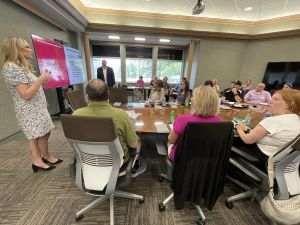 We had a great turnout on June 7 for our Emerging Leaders event at the Chamber. Red Sage Communications' experts, VP of Client Experience & Strategy Sarah Macaluso and Director of Client Services Michael Jones, explained how you can leverage modern social media tactics to better position your company.
The session also provided best practices, social media tips and real-life strategies employed in the highly successful Positively Decatur campaign. The most important takeaway from the presentation was that social media is a powerful tool you can use to learn about your audience and identify opportunities to engage in powerful conversations.
This Emerging Leaders event was made possible by supporting sponsor Decatur Morgan Hospital and welcomes anyone to the in-person series to grow as a leader and connect with other young professionals in the area. Our next Emerging Leaders event will be on Wednesday, August 2.