Beyond Gravity Appoints Justin Elliott as Vice President of Launchers Alabama Business Unit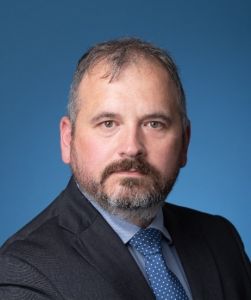 (News Release) – Beyond Gravity, a leading global supplier to the space industry, announces the appointment of Justin Elliott as the Vice President of the Alabama Launchers Business Unit in Decatur, Alabama, effective May 31, 2023. Justin brings with him a wealth of experience in transformation processes and complex manufacturing operations.
As of May 31, Beyond Gravity will be joined by Justin Elliott as Vice President of its Launchers Alabama Business Unit. In his previous role in Tallassee (Alabama) Justin successfully led and
directed all strategic operational activities for one of GKN's largest technical communities during a crucial period of transformation, resulting in significant performance improvements. Justin's extensive experience in managing complex manufacturing operations will play a critical role in driving the next phase of Beyond Gravity's transformation and the growth of its US business.
Paul Horstink, Executive Vice President of Launchers at Beyond Gravity, says, "Justin's background and expertise make him the ideal candidate to strengthen our launchers division and support the development of our Alabama business unit to continue to provide quality to our esteemed customers. His down-to-earth approach, hands-on leadership style, and ability to foster strong relationships will undoubtedly contribute to the success of our team."
Rick Sanford, who joined Beyond Gravity in March 2022, for global business development and has assumed responsibility for the business unit ever since, has played a crucial role in driving growth. He has been instrumental in the successful completion of the first transformation phase. He will resume his primary role and focus on business development and strategic growth. Expressing his gratitude towards Rick, Paul Horstink commented, "Rick's strengths and dedication have been a tremendous asset to our company. We are very happy that he will continue to provide leadership and support to our operations in both Decatur and Titusville. I extend my sincere thanks to Rick for his outstanding contributions during this important time for the Alabama business unit, and I look forward to working with him and the leadership team. Beyond Gravity remains committed to building a strong team to continue driving innovation, transformation, and growth."
Beyond Gravity, a leading aerospace company headquartered in Switzerland with a strong presence in the United States, specializes in designing, developing, and manufacturing advanced space technology solutions. With production facilities in Decatur (Alabama) and Titusville (Florida), Beyond Gravity has established itself in the US as a key player in the industry.
A significant aspect of Beyond Gravity's operations in the United States revolves around the partnership with United Launch Alliance (ULA), a renowned launch service provider. Through this partnership, Beyond Gravity works closely with ULA to produce structures and critical launch systems for launch vehicles such as Atlas and Vulcan. This collaboration has positioned Beyond Gravity to meet the growing demand for advanced launch systems, including their contract won last year to supply payload fairings for the Vulcan rockets launching Kuiper's constellation into space.