Member Spotlight – Lightwire Solutions, LLC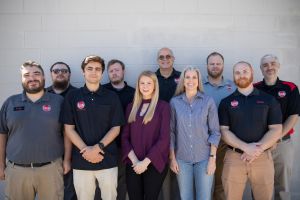 Lightwire Solutions is a managed services provider that has been in business since 2012. Businesses use managed service providers if they are seeking to outsource all or some of their technology needs. The company provides ongoing server and computer management, security, planning and project work to clients of all sizes and industries/government. Currently, the company is managing and securing thousands of endpoints across dozens of clients. Although Lightwire Solutions is, by definition, a technology company, it is in the business of helping people. Lightwire is proud to be based in Decatur, AL and provides services all over the southeastern United States.
Lightwire Solutions was started out of the home of Managing Partner Daniel Starr. By keeping his focus on the business relationship and quality of service, the company grew from a single employee in 2012, to multiple employees with multiple departments to service client needs. The company is a graduate of the Decatur-Morgan County Entrepreneurial Center. In 2021, it purchased a new location on Wilson Street in Decatur. This move was to accommodate current growth and provide plans for future growth.
Lightwire Solutions believes in not just being in the community but also being a part of it, through partnerships with local programs like the Business 101 Program. Lightwire Solutions also contributes to local charitable organizations in order to give back to the community that has so richly blessed them.
For more information, click here or email info@lightwiresolutions.net.