Bunge North America Announces $28.6 Million Expansion to Decatur Plant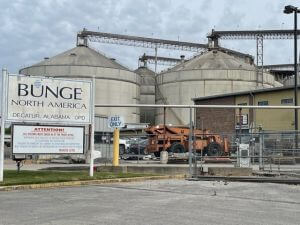 According to the Decatur Daily, Bunge North America, Inc.'s Decatur plant will a begin a $28.6 million expansion in May. The project will improve the plant's unloading and distribution capabilities by upgrading existing buildings and adding a new building and equipment. Construction should be complete by December of this year. The expansion will not add any jobs to the plant.
"We need to fill a barge a day. We unload 120,000 bushels a day, and the upgrade will allow us to increase that to 200,000 bushels a day," said Plant Manager Victor Pacheco who also serves on the Board of Directors for the Decatur-Morgan County Chamber of Commerce.
During a meeting on Thursday, the Industrial Development Board of Decatur approved an abatement of just over $1 million in non-educational property taxes and $669,244 in non-educational sales and use taxes for the project. It will generate $1.23 million over 10 years in educational property taxes and $95,600 in educational sales and use taxes during the construction period for local school systems.
The Decatur plant uses soybeans from local farmers to produce soybean oil, soybean meal and several oil blends that are used as key ingredients in consumer products. The plant is one of the two largest soybean manufacturing plants in North America. Thank you to Bunge for your continued investment in Decatur-Morgan County!