Decatur Leaders Give Update on State of the City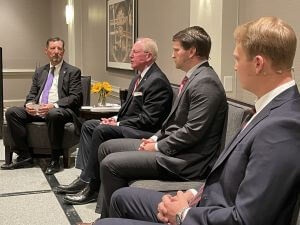 The Chamber's State of the City Forum was held on April 19 at the DoubleTree by Hilton.  Mayor Tab Bowling, Council President Jacob Ladner, District 2 City Councilman Kyle Dukes Pike and moderator Wade Weaver with Adams Beverages discussed several topics including business and residential development, quality of life improvements and infrastructure projects in the works such as the Highway 20 overpass, renovations to the city's entrance on 6th Avenue and the bridge feasibility study. They also discussed the next steps in the process to move the Ingalls Harbor riverfront development forward and an update on how the city is positioned financially in the short and long term.
Mayor Bowling said Decatur is in a great financial position operating with an $80 million general fund budget which is significantly higher than in years past and reflects the level of growth the city has experienced. City leaders say recreation projects are also a big focus for Decatur.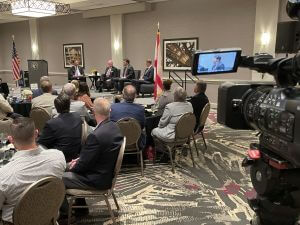 "We're excited about building a state-of-the-art $55 million recreation center," said Mayor Bowling.
The new recreation center will be built at Wilson Morgan Park and about $7 million will be spent on upgrades at Point Mallard that will include a state-of-the-art pickleball facility, a new baseball and softball complex and an event center at the old ice rink.
Thank you to our Presenting Sponsors Gateway Commercial Brokerage and Gold Sponsors Huntsville International Airport, Steel Technologies, LLC and United Launch Alliance.