Decatur Launches Bike Share Program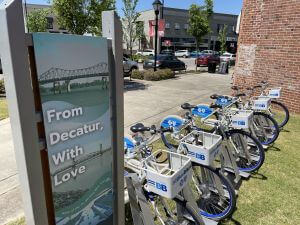 (News Release) - The Decatur Downtown Redevelopment Authority in partnership with Decatur-Morgan County Tourism and Tandem Mobility have teamed up to launch Blue Bikes presented by Blue Cross/Blue Shield of Alabama.
Tandem Mobility offers a turnkey bike share system including hardware, software, operations, and customer support. The bikes are 5-speed cruisers, custom-built on the Fuji Breezer Uptown platform, winner of Bicycling Magazine's Editors' Choice for Best Commuter Bike for an unprecedented four years in a row. There will be three bike stations located in Decatur. The station locations are 2nd Avenue Downtown, Rhodes Ferry Park and Point Mallard Park.
To rent a Blue Bike, riders must download the free Movatic app for iPhone or Android and create an account. The rental fee is $2 per hour, and the bike will continue to be charged until returned to any of the available Blue Bike Stations.
Decatur-Morgan County Tourism President & CEO Danielle Gibson shared her enthusiasm about the new bike share. "The possibilities for what a bicycle tourism destination can be are endless.  We can't wait for guests and locals to experience the amazing trails we have to offer such as the Point Mallard Trails and the Dr. Bill Sims Bike Trail. When guests are on vacation, they will be taking time to focus on their health, slowing down, and connecting with the true experiences here in Decatur and creating memories they will never forget."
Executive Director for Decatur Downtown Redevelopment Authority Kelly Thomas is also excited about the arrival of bike share. "We are proud to offer an additional amenity to entertain downtown residents and visitors. Decatur has a unique mix of outdoor offerings: the Tennessee River, Point Mallard Park, Wheeler Wildlife Refuge, and the Dr. Bill Sims Bike Trail. The bike share program will allow riders to experience our downtown and our parks in a fun way. We appreciate Blue Cross/Blue Shield for their generous support of this program for the Decatur community."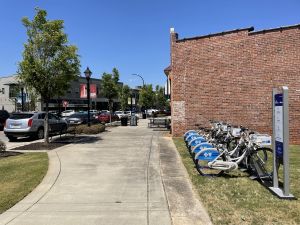 The Decatur-Morgan County Chamber of Commerce will be hosting an official ribbon cutting ceremony for Blue Bikes on Friday, April 21, at 6 p.m.  in front of the 2nd Avenue bike station (located near Gordon Drive in the grassy area between Tess' Place and Pettey & Associates Real Estate Appraisers). The ribbon cutting ceremony will take place during the first 3rd Friday event of the season in Downtown Decatur. 3rd Friday is a monthly street festival hosted in Downtown Decatur from April through October with live music, food, vendors, and entertainment. The theme for the first 3rd Friday of the season will be BIKES.