Chamber Welcome's New Members to Commodore Program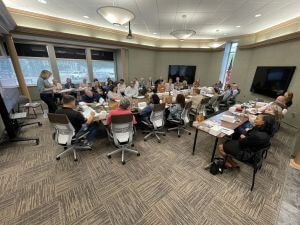 On April 14, we welcomed 13 new members to the Chamber's Commodore program at our annual orientation luncheon. We now have more than 40 ambassadors that will help make new members feel welcome and introduce them to our programs. They also maintain relationships with current members.
The Chamber cannot do the work we do without their dedication, and we are incredibly thankful for their involvement. Thank you to all our Commodores for your commitment to serving for the next year.
Congratulations to Landis Griffin with Habitat for Humanity of Morgan County who will serve as the 2023-2024 Admiral. The Chamber's Commodore program is presented by Redstone Federal Credit Union.
Click here to see our Commodores and learn more about the program.