Breakfast & Biz: Mental Health Matters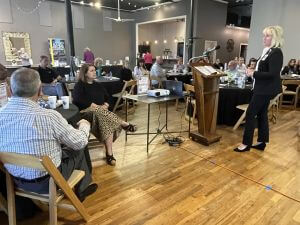 At our Breakfast & Biz event on April 13, Decatur Morgan Hospital - West Campus Executive Director Amy Gillott gave an eye-opening presentation on the mental health crisis we are facing in our community and ways we can help make a difference. Amy said one of the factors contributing to the current crisis is that Alabama Psychiatric Services and North Alabama Regional Hospital both closed in 2015. Last year, Decatur Morgan Hospital - West Campus had more than 1,000 patients under the age of 18, almost twice the number of patients in 2021.
Amy shared that one of the best things we can do is help remove the stigma associated with mental health by talking about it. We can also offer compassion, know what resources are available and know the risk factors for suicide. Amy also provided resources to call in case of an emergency. You can dial 988 to reach the Suicide and Crisis Lifeline or you can call the Suicide Prevention Lifeline at 1-800-273-TALK. Both are available 24/7.
Breakfast & Biz is presented by Redstone Federal Credit Union and our host sponsor is The Magnolia Room.