Field Representative for U.S. Congressman Dale W. Strong Speaks at Emerging Leaders Event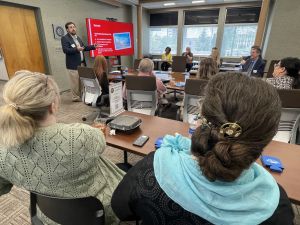 Our guest presenter our Emerging Leaders event on April 5 was Josh Melson. He's the local field representative and agriculture advisor for U.S. Congressman Dale W. Strong. Josh explained his new role and the various types of casework his office can help with such as immigration, passports and veteran services and the importance of connecting with him regarding concerns facing your company and community.
Josh lives in Morgan County with his family and spent the last six years in the classroom as an agriscience teacher and Future Farmers of America advisor with Morgan County Schools. Previously he served as a County Extension Coordinator for the Alabama Cooperative Extension System. From 2013 to 2016, he was the Area Director for the Alabama Farmers Federation. Josh has a Bachelor's degree in Agriculture Leadership and Education and a Master's degree in Agriculture Leadership from Auburn University. Click here to contact Josh.
Thank you to our Supporting Sponsor Morgan County Association of REALTORS® and to our Contributing Sponsor Chicken Salad Chick for providing lunch. Our next Emerging Leaders event will be on Wednesday, June 7.