Decatur Kicks Off 3rd Friday on April 21 in downtown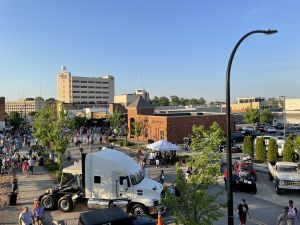 The first 3rd Friday of 2023 will kick off April 21, on 2nd Avenue between Lee Street and Gordon Drive. 3rd Friday is a monthly street festival hosted on the third Friday of every month in downtown Decatur from April through October with live music, food, vendors and entertainment.
The theme for the first 3rd Friday of the season will be bikes. At 6 p.m., the Decatur-Morgan County Chamber of Commerce will be host a ribbon cutting ceremony for Blue Bikes in front of the 2nd Avenue bike station located at 312 2nd Avenue.
Roads will close starting at 4:30 p.m. There will be no parking on the street after 4 p.m. on 2nd Ave. No parking signage will be posted. The Chamber is a proud sponsor of 3rd Friday