Chamber's Three Leadership Development Programs Meet in the New Year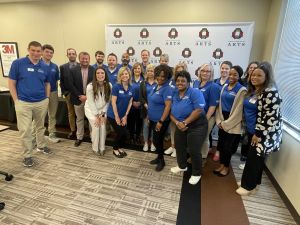 Excellence in Leadership – the Chamber's flagship leader development program for professionals – met in January for a Poverty Simulation facilitated by Leadership Greater Huntsville at First Baptist Church Decatur. Each class member was given a scenario of being in a certain economic situation and had to interact with volunteers to learn how to prioritize topics like healthcare, childcare, education, rent and other real-world issues for working families. The class walked away a little more empathic and knowledgeable about what the community offers those in need. After lunch, the group heard from Amy Gillott, Executive Director of Decatur Morgan Hospital – West Campus, about the mental health crisis in Morgan County.
In February, the class focused on the role economic development has on our community. The class began their day at the Alabama Center for the Arts with a panel discussion featuring Decatur Morgan County Tourism President/CEO Danielle Gibson, Morgan County Economic Development Association President/CEO Jeremy Nails and Decatur City Planner Lee Terry. The class watched a short film called TVA Town that explains how Decatur became a hub for industry along the Tennessee River. Then, after playing an economic development game, the group toured the GE Appliances, a Haier Company facility. It's the largest single site employer in Morgan County producing more than a million refrigerators annually. After lunch, the group heard from Decatur-Morgan County Entrepreneurial Center Executive Director John Joseph and Ruben Morales-Soto with the Small Business Administration.
On March 4, the class hosted a charity dinner event called "Let the Good Times Roll" for at Ingalls Harbor Pavilion for their community project. at Ingalls Harbor Pavilion. Proceeds from the fundraiser will benefit Hands Across Decatur, Morgan County Child Advocacy Center and Neighborhood Christian Center.
In March, Excellence in Leadership and Edge Student Leadership programs had a great time on our 2023 Montgomery Public Policy Trip on March 7 - 8. They were able to meet with our local delegation, hear from Business Council of Alabama president and CEO Helena Duncan and tour the National Memorial for Peace and Justice and The Legacy Museum. They also had the opportunity to sing at the Dexter Avenue King Memorial Baptist Church with tour guide Wanda Battle. Excellence in Leadership is presented by Nucor Steel Decatur and Gold Sponsors are the City of Decatur, Durbin Leadership, LLC and Shawn D. Garth, Realtor.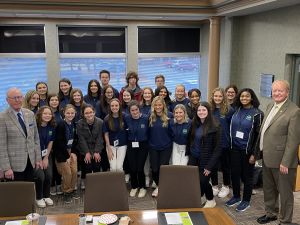 To kick off the new year, the Chamber's Edge Student Leadership class – comprised of more than 30 sophomores and juniors from across Morgan County – met in February for Decatur Now and Then Day. Morgan County Commission Chairman Ray Long and Mayor Tab Bowling started the day at the Chamber speaking to the group about each of their roles in local government. The group then toured the Old State Bank with Judge David Breland, historic preservation commission program coordinator for the city of Decatur. They also toured the Morgan County Archives with Archivist John Allison and the Alabama Center for the Arts with Chief Operating Officer Jennifer Bunnell. The students enjoyed lunch at Burningtree Country Club where Laura Lynn Kerner discussed dinner and business etiquette. They ended the day with Taylor Simmons of Horizon Point Consulting bringing valuable information on social media and interviewing skills. Thank you to our Presenting Sponsor Nucor Steel Decatur and Gold Sponsors Bunge Corporation, Joe Wheeler EMC and the Morgan County Commission.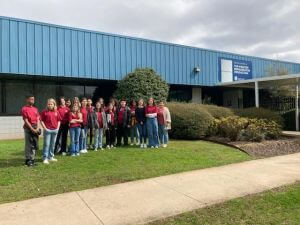 The Chamber's Equip Student Leadership program kicked off the  2023 spring semester in January at the Cook Museum of Natural Science. Twenty-three 8th graders from schools across Morgan County learned skills to help prepare them for a successful future. Taylor Simmons with Horizon Point Consulting focused on employability skills which included completing job applications and practicing mock interviews. After lunch, Kaeshier Fernandez with Redstone Federal Credit Union played the game of Life with the students to teach them how to budget and make smart money choices.
In February, the class toured the fabrication shop at Contractor Service and Fabrication Inc. on 6th Avenue in Decatur. The students learned about the different pieces of equipment used at the facility and the roles and responsibilities of each employee. The students were given their first name initial cut out of metal right from the shop floor.
The Equip Student Leadership class met in March for Industry and Utilities Day. Their first stop was GE Appliances, a Haier company, for a tour of the Decatur plant. They were able to see and discuss different career pathways with employees. Next on the agenda was Decatur Utilities where several employees shared about their jobs and the education pathway it takes to be able to fill those positions. The goal of the five-month program is to help 8th graders with leadership training, career development and to show them opportunities that require less than a four-year degree. Thank you to our Presenting Sponsor Nucor Steel Decatur and Gold Sponsor Bunge Corporation.