High-definition Cameras Installed in Decatur, Offering Railfans 24/7 Live-streaming of Trains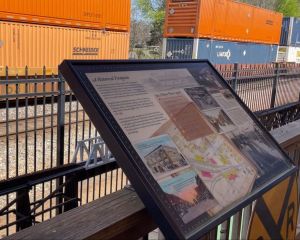 (News Release) -Virtual Railfan, Inc. the leading provider of 24/7 live streams of popular railroad locations for train fans, is proud to announce the installation of high-definition cameras at the Historic Decatur Union Depot in Decatur, Alabama. Mounted on the historic building, the cameras offer spectacular views of the parade of trains that roll by the depot every day. The Decatur-Morgan County Chamber of Commerce and Decatur Morgan County Tourism will celebrate the installation of the new railfan cameras with a ribbon cutting  on March 31, at 10 a.m.
Although viewers tune in to watch trains, the live chat which accompanies each feed provides a unique opportunity for people to converse about the station, the city, its history, and events while they wait for the next train. "Our camera is a window into the community, exposing millions of our YouTube fans and potential tourists to Decatur." Adds Mike Cyr, President and CEO of Virtual Railfan, Inc.
When asked about Virtual Railfan coming to Decatur, David Breland, Manager of Historic Resources for the City of Decatur/ Decatur Parks and Recreation, states "We are thrilled that the Historic Decatur Union Depot has been added as a Virtual Railfan site! About 400,000 railroad enthusiasts throughout the world currently subscribe to this live rail platform which is viewed online tens of millions of times annually. Only the most interesting rail sites are chosen for inclusion proving Decatur's continuing rail importance for the past almost 200 years. This selection was made possible after years of background work by the City of Decatur and Decatur Morgan County Tourism. We celebrate the historical, cultural, and tourism economic benefits which will be brought to Decatur by VR and look forward to hosting many VR rail enthusiasts and their families at the Historic Decatur Railroad Depot Museum in the future."
President/ CEO of Decatur Morgan County Tourism, Danielle Gibson shares, "We are so happy to have been a partner in bringing this incredible asset to the city of Decatur."
The Decatur livestream can be found on YouTube by clicking here,  and on the Virtual Railfan website by clicking here.
About Decatur Morgan County Tourism
Decatur Morgan County Tourism is a not-for-profit organization promoting tourism and economic growth in Morgan County. Travel-related expenditures for Morgan County in 2021 exceeded $333 million and state lodging taxes collected reached nearly $1.7 million. The tourism and travel industry within Decatur and Morgan County provided 3,588 direct and indirect jobs for local residents and total travel-related earnings exceeded $88 million. For information on special events and attractions in Decatur and Morgan County, call 800.524.6181 or 256.350.2028; or click here.