Governor Ivey Issues Executive Order to Cut Red Tape for Citizens and Businesses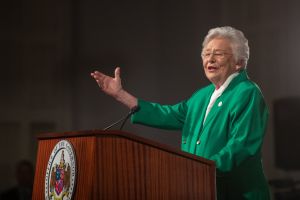 (News Release) In one of her first official actions following the 2023 State of the State Address, Governor Kay Ivey on Wednesday signed Executive Order 735, delivering on her commitment to making state government work with greater efficiency and accountability for the people of Alabama.
"Sometimes, the best thing government can do is just get out of the way and allow the people to handle their business," said Governor Ivey. "In many cases, government regulations that were necessary a decade ago have outlived their usefulness, and it's time for that to change. This order directs state executive branch agencies to find where they can better serve our people, and I look forward to seeing its impact result in positive changes soon."
Executive Order 735 will reduce the "red tape" citizens and businesses must navigate by placing a moratorium on new rulemaking by executive branch agencies and establishing goals for the reduction in discretionary regulatory restrictions on citizens and businesses contained in the Alabama Administrative Code by 25%.
The order will be carried out in three phases over the next two years.
Phase one requires each state executive branch agency to prepare a written inventory of its existing administrative rules. Agencies will provide this information to the Office of the Governor. Phase one is anticipated to occur between March and September of 2023.
Phase two directs each state executive branch agency to develop a written plan to reduce regulatory burdens imposed through its administrative rules and otherwise tighten up its administrative code. Phase two is anticipated to occur between September 2023 and March 2024.
Phase three is where the implementation of each agency's rule reduction plan will begin. Phase three is anticipated to occur between March 2024 and March 2025.
Additionally, each executive branch agency must designate an existing employee to serve as its Red Tape Reduction Coordinator.
Executive Order 735