Member Spotlight – Vets Like Us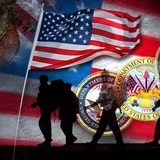 Vets Like Us is a 501(c)(3) nonprofit corporation dedicated to ensuring veterans within our community are receiving the benefits, services and support they deserve and have heroically earned and to pursuing various endeavors to honor and support veterans and their families. Through the organization's interaction with veterans, they can address each individual need or concern by raising funds, organizing special events and networking to find ways to best serve them. With support from the VA, Vets Like Us can help provide mental health services, homeless veterans support, counseling and employment assistance as well as other services.
Vets Like Us is currently working to install a Gold Star Families Memorial monument at Founders Park in Decatur. The monument will honor the families of the estimated 172 men and women from Morgan County that lost their lives while serving in the military. Recently, the Morgan County Legislative Delegation presented Vets Like Us a $30,000 grant to help support local veterans.
The organization is also working on the installation of a plaza around the monument. Bricks with the names of all the casualties from Morgan County will be placed at the monument. The surrounding walkway up to the monument to be filled with sponsored bricks that can be engraved with the names of those you wish to honor or memorialize.
For more information, click here or email vetslikeus@gmail.com.