2023 State of Morgan County Attended by More Than 200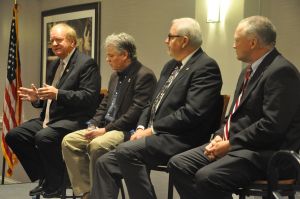 The State of Morgan County Forum was held on February 22 at the DoubleTree by Hilton Hotel, Decatur Riverfront with more than 200 in attendance.
Morgan County Commission Chairman Ray Long, District 1 Commissioner Jeff Clark, District 2 Commissioner Randy Vest and District 4 Commissioner Greg Abercrombie answered questions that provided an overview of the progress made in the past year and plans for upcoming road and community projects. District 3 Commissioner Don Stisher was not able to attend. Chairman Long said the county is in great shape with an eight-million-dollar reserve and upgrades on the way to the courthouse.
"The renovation at the courthouse is major and the heating and cooling has been there since 1973," said Chairman Long. "Hoping before the year is out we'll have that replaced."
The commission is aslso building  new baseball fields and concession stands at Morgan County North Park in Priceville and at Morgan County West Park in Neel. There is also a gymnasium under construction at West Park.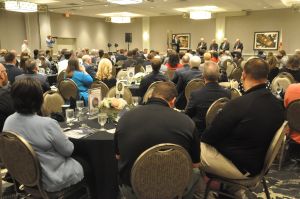 Thank you to our moderator Wade Weaver with Adams Beverages and chair of the Chamber's Public Policy Committee. Thank you to our Presenting Sponsor EvaBank and Silver Sponsors: Goodwyn, Mills & Cawood, Inc., Harris, Caddell & Shanks, PC, the Town of Trinity and United Launch Alliance.