Chamber's Excellence in Leadership Class Hosts Charity Dinner Event on March 4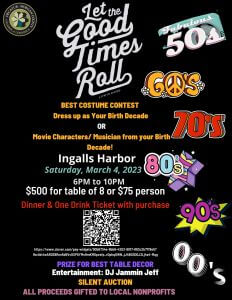 The Decatur-Morgan County Chamber of Commerce's Excellence in Leadership class has chosen a charity dinner event called "Let the Good Times Roll" for their community project this year. It will be held on Saturday, March 4 from 6 to 10 p.m. at Ingalls Harbor Pavilion. There will be food, drinks and a celebration of every decade from the 50's to the 2000's. Dress up in your favorite style from your birth decade or your favorite movie character/musician from that time period.
This fundraiser will benefit the following local nonprofits: Hands Across Decatur, Morgan County Child Advocacy Center and Neighborhood Christian Center.
Tickets are $75 per person or $500 for a table of eight. Click here to purchase tickets or to donate. More information on the event can be found here.
The Excellence in Leadership program is the Chamber's premier leader development series. It began in 1987 to develop and build a network of leaders with the goal of creating community awareness and encourage community involvement. The class meets once a month for 10 months, with day-long sessions focusing on topics essential to our community. The class also includes a community service project, where members select an area non-profit to support.