Career & Workforce Expo Connects Local Companies and Students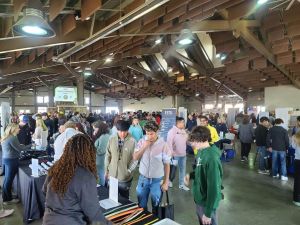 On February 7, approximately 1,000 high school students from school systems in Morgan, Lawrence and Limestone Counties attended the 2023 Career & Workforce Expo. The annual event was held at Ingalls Harbor Pavilion in partnership with Calhoun Community College and Morgan County Economic Development Association. More than 65 local business and industry partners in high demand careers spoke with 9-12 graders throughout the day about job opportunities and the education choices they need to make to be able to fill those positions.
"The goal of the Career and Workforce Expo is to inform and educate our area high school students on careers and curriculum needed for regional job openings and to develop the skills necessary for placement and advancement when they enter the workforce," said Amber Fortenberry, Director of Talent Development and Recruitment for the Decatur–Morgan County Chamber of Commerce.
After the Career & Workforce Expo wrapped up, the public was invited to meet with the partners for a job fair from 2:30 to 4:30 p.m. Thank you to our Presenting Sponsor Jackson Plumbing Heating Cooling, our Golden Ticket Sponsor Indorama Ventures Xylenes & PTA, Gold Sponsors Joe Wheeler EMC, Mazda Toyota Manufacturing, and Sparks Energy and Silver Sponsors 3M, Ascend Performance Materials, Bramlett Automotive, Cerrowire, Nucor Steel Decatur and Redstone Federal Credit Union.