Calhoun to Host Military and Veterans College and Career Workshop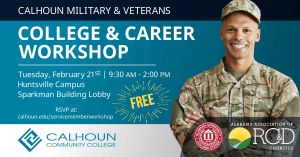 Calhoun Community College will host its very first Military and Veterans College and Career Workshop. This free event will be held on Tuesday, February 21 from 9:30 a.m. – 2:00 p.m. on the college's Huntsville campus in the Sparkman Building Lobby.
According to Jimmy H. Baker, Chancellor of the Alabama Community College System (ACCS), this event was created in partnership with the ACCS and the Alabama Association of Resource Conservation and Development Councils (RC & D) and is one of many initiatives that will be created to serve the military and veterans' community. The goal of this event is two-fold; first to address the growing need for education, professional training and apprenticeship opportunities as well as mental health resources for our service members, veterans, and their families, and second, to provide information on how military benefits can be used in any of these areas.
"We offer all of those services and more at Calhoun," commented Stephanie Works, Calhoun VA Coordinator/Financial Aid Supervisor. "Many of our military service members do not realize the long list of things their benefits cover from an education and personal standpoint, which is why this event is extremely important. Dependents of parents who are either active duty or retired may also qualify for benefits as well and should consider attending. This event will cover all of those bases, as well as provide all attendees with lunch on us as a 'thank you for your service'," added Works.
The workshop will include break-out sessions that will cover the following topics:
Veterans' Services (GI Bill, Financial Aid, VA Benefits, Military College Credit)
Enrollment process and Campus Life
Paid Apprenticeship and Work-Based Learning Opportunities
Mental Health Support Resources and other student services
Certifications and Training
"Being in such close proximity to Redstone Arsenal, Calhoun is committed to ensuring we keep our staff up-to-date on military and veterans benefits to better serve our students who fall into this population," commented Dr. Patricia Wilson, Calhoun Vice President of Student Services. "We are equipped to do the leg work for the brave men and women who serve this country by providing the answers, services, and research that will help them attain their personal and educational goals," added Wilson.
Registration to attend this event is required as lunch will be provided. Click here to register and learn more.