Member Spotlight – Mosaic Mentoring of North Alabama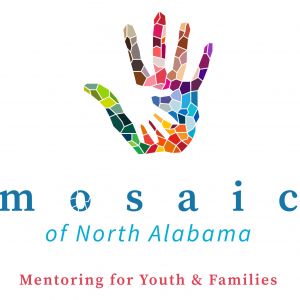 Mosaic Mentoring of North Alabama is a child and family mentoring organization that provides children and their caregivers facing adversity with strong mentors.  Many studies have shown that children with strong role models are less likely to engage in destructive behaviors and are more likely to succeed in their adult lives. Through both community-based and school-based programs, Mosaic Mentoring provides children with caring teen and adult mentors and friends. Professionally supported mentoring relationships, local volunteers helping local children be successful and building strong individuals and families can only mean positive outcomes for the communities that Mosaic Mentoring serves.  Their goal is to provide children with positive role models who expose them to new and different things that they might not otherwise get to experience.  Just as an artist takes broken pieces of glass to create a beautiful mosaic, we hope to do the same with children's lives.
Mosaic Mentoring of North Alabama:
provides older students the opportunity to serve as mentors to elementary school students through TOPs, Mosaic's school-based mentoring program.
provides local parents/guardians with resources they may need to help strengthen their family unit.
brings around 500 spectators and participants to Decatur from across the country for the Wet Dog Triathlon.
brings around 300 spectators, judges and cook teams into Decatur for Sizzle and Smoke.
For contact information, please click here.