TRC Connect 22: A Volunteer Perspective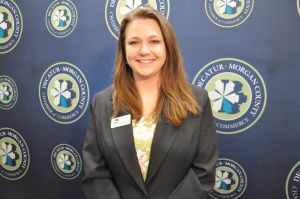 My name is Jeni Jordan and I am an engineer with S&ME. "Connect 22" was the theme for the Decatur-Morgan County Chamber of Commerce's Total Resource Campaign (TRC) this year and we as volunteers were challenged to do just that, make connections. Networking plays a key role in my success as a young professional and joining the TRC as a campaign volunteer allowed me to make professional and personal connections I wouldn't normally have made. Professional development and personal friendships were my focus for deciding which businesses and organizations to contact about sponsoring events with the Chamber. I reached out to those I already had business relationships with, but I also tried to think outside the box in an effort to establish new connections.  This approach enabled me to add several new members to the Chamber during the TRC.
The TRC opens with renewal contracts. Businesses are offered "First Right of Renewal" and volunteers are asked to reach out to companies who sponsored events the previous year to determine if they would like to continue with those same sponsorships. I was able to reach out to these companies and find out if their sponsorships were a good fit for their marketing plan. If they wanted to make a change, I was able to help them research all the different opportunities and pick one that would be the most beneficial for them.
I found out during the campaign that small businesses comprise more than 80% of the Chamber's members. That is incredible! When our small businesses succeed, that paves the way for larger businesses to grow and continue to come to North Alabama. Small business is the heartbeat that keeps our city thriving. It was exciting for me to explain a small portion of what the Chamber can do for these local and small businesses in and around Decatur-Morgan County. I am grateful for the opportunity to help local businesses get plugged-in and I am starting my list of contacts for the next campaign!