Peggy Allen Towns Honored with 2022 ATHENA Leadership Award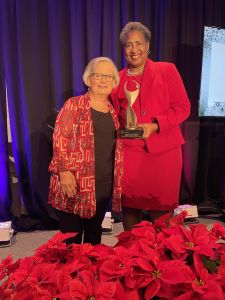 On December 14, Peggy Allen Towns was honored with the ATHENA Leadership Award at the Decatur-Morgan County Chamber of Commerce's 13th annual Women in Business Celebration at Doubletree by Hilton Decatur Riverfront.
Named for the Greek goddess of wisdom, as well as the champion of justice and law, the ATHENA Leadership Award is presented across the world by chambers of commerce, women's organizations and universities. It is an international program and is promoted by local organizations.
"As I read what this award is about – 'The international award is named for the Greek goddess of wisdom and is also known as the champion of justice and civil law.'  One name stands out more than any other - Peggy Allen Towns," said Tricia Pruitt with the Better Business Bureau of North Alabama who nominated Peggy Towns for the award. "In knowing her and watching her lead, I so admire the way she champions justice and civil law by example, by education, by being involved in her community - in so many ways, it affords her opportunities to make us all better.   And she does make us all better!"
Peggy spent many years as the community liaison to Congressman Bud Cramer's office in Decatur, retiring in 2011.  She was a dedicated public servant helping residents in many capacities. After retiring, Peggy became a full-time educator and author. She wrote Duty Driven, Scapegoat: The Tommy Lee Hines Story and Scottsboro Unmasked: Decatur's Story. Peggy worked with our legislators and the historical groups to get Historical Designation and Markers for "Old Town' as well as sites listed on the Alabama Historical Registry. She assisted in establishing a digital history walking tour so visitors and residents can learn about the rich history of "Old Town". Peggy has always put an emphasis on the role of women and was instrumental in getting a National Vote for Women's marker in our area.
Peggy is a recipient of the Barrett Shelton Freedom Award and the Virginia V. Hamilton Award given by the Alabama Historical Association honoring individuals who make history engaging and accessible.  She was recognized by the Decatur Morgan County Tourism Board for her many contributions and she was most recently awarded the 2022 String of Pearls Award by the Alabama Mountain Lakes Tourist Association.
The luncheon also included keynote speaker Larkin Martin who manages her family's farm in Courtland, raising corn, cotton, soybeans and wheat. She is a past Chairman of the Federal Reserve Bank of Atlanta and of The Cotton Board.
In addition to the celebration luncheon, the Chamber hosted a professional development conference. Cindy Smith with Edward Jones held a session on "5 Money Qs for Women" and Jillian Miles Massey with Horizon Point Consulting, Inc. presented a session on "Work Life Integration". Thank you to our Presenting Sponsor Nucor Steel Decatur,  ATHENA Leadership Award Sponsor Redstone Federal Credit Union, Gold Sponsors Renasant Bank and United Launch Alliance, Breakout Session Sponsors Complete Dental and Holistic Performance Group.
Read more about Towns receiving the ATHENA Award in The Decatur Daily by clicking here. (Photos Below Courtesy: Jeronimo Nisa/The Decatur Daily)