Shop Small, Shop Local and Win Big with Chamber's Gift Card Giveaway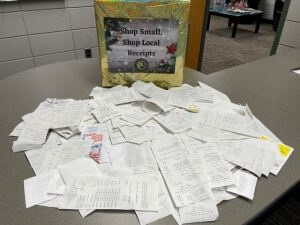 UPDATE: Our "Shop Small, Shop Local" promotion for this holiday season ended on December 11 and we received more than 450 receipts. Twenty lucky winners were chosen to receive a $100 gift card from a Chamber member business of their choice. Congratulations to the following winners: Marshall Addie, Mike Albro, Merry Albro, Denice Carter, Sue Cozart, John Evans, Mitzi Founds, Linda Johnson, Allison Marks, Mavis McKee, Felicia Harper-Morris, Kathy Morrison, Alice Odem, Amy Patterson, Linda Powell, Linda Schoo, Maya Stough, April Twyman, Nora Vanderploeg and Cheryl Wagar. Winners chose gift cards from Alfonso's, Chel'Den's Gift Emporium, Cook Museum of Natural Science, Cracker Barrel, Cricket By The Creek, The French Door Salon & Day Spa, Margaux, Mellow Mushroom, The Railyard and Shops on 2nd.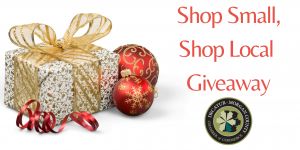 PREVIOUS STORY: The Decatur-Morgan County Chamber of Commerce is excited to kick off our 3rd Annual Shop Small, Shop Local Giveaway!  Shoppers can enter a drawing to win one of 20 $100 gift cards to a Chamber member business (click here to search our Chamber member directory) of the winner's choice. The campaign encourages the community to support Small Business Saturday on November 26 and our local businesses this holiday season.
How to Enter:
Spend $25 or more at any retailer or restaurant located in Decatur-Morgan County between November 10 – December 11. There is no limit on the number of receipts that can be entered, but each receipt purchase must total $25 or more.
Make a copy of your original receipt and write your name and phone number on the back.
Drop your original or copied receipt off in the decorated box by the back entrance of the Decatur-Morgan County Chamber of Commerce (515 6th Avenue NE in Decatur) during business hours (Monday – Friday from 8 a.m. to 5 p.m.) between November 11 – December 12.
Winners will be contacted on Tuesday, December 13.