Calhoun Hosts Ribbon Cutting for New Gene Haas Center For Advanced Manufacturing
(News Release) - On November 15, Calhoun Community College and the Gene Haas Foundation hosted its building renaming and official ribbon cutting ceremony for the College's new Gene Haas Center for Advanced Manufacturing.
The building renaming and renovations were made possible by a $550,000 grant that was presented to the College last spring from the Gene Haas Foundation. "Machining is both extremely important and vital in not only North Alabama but across the country as well," commented Dr. Jimmy Hodges, Calhoun President. "I made the choice to go to college because I knew I wanted to be a machinist, which is why this announcement is so personal to me. Our college is privileged to be selected for such an opportunity where our students will benefit tremendously. Our manufacturing students compete nationally in various advanced manufacturing competitions, and one of the reasons they have a track record for success is from having the ability to train using Haas equipment. The generosity of the Gene Hass Foundation will forever be etched in our hearts as we will be able to train the next generation of manufacturers with the best top-of-the-line equipment in the industry," added Hodges.
According to Johnette Davis, Calhoun Foundation Director, the funds were awarded by the Gene Haas Foundation in exchange for naming rights to the college's Computer Numerical Control (CNC) Lab inside of its Advanced Technology Center on the Decatur campus. The CNC lab, also known as the high bay, is now officially called The Gene Haas Center for Advanced Manufacturing. In conjunction with renaming the college's lab, the grant will also help fund any expansion plans, as well as create more training opportunities for future manufacturing technology students.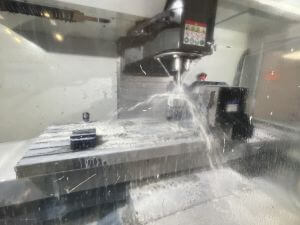 "The Gene Haas Foundation has been a consistent supporter of our advanced manufacturing students through scholarships throughout the years," commented John Holley, Calhoun Dean of Technologies. "Calhoun's technologies programs are recognized across the region as one of the best workforce development training facilities, and by partnering with The Gene Haas Foundation, this will only strengthen our efforts," added Holley.
Gene Haas is the American founder, president  and sole stockholder of Haas Automation, a CNC machine tool manufacturer. Haas Automation is the largest machine tool manufacturer in the United States. With over 45 state-of-the-art advanced manufacturing learning labs at top-level institutions across the nation, its ultimate goal is to provide the best CNC training and advanced manufacturing education possible. The training is designed to increase the supply of highly skilled graduates available to meet the needs of local and regional industries. "It is an extraordinary honor for Calhoun's Advanced Manufacturing Center to bear the Gene Haas name, and we are deeply grateful to The Gene Haas Foundation for its partnership and shared vision," commented Davis.