Calhoun Invites Community to Free Veterans Day Celebration Thursday
(News Release) Calhoun Community College is excited to invite the public to attend its annual Veterans Day Celebration Program on November 10, at 10:00 a.m. in the Health Sciences Building, room 109 on the Decatur Campus. The event is free and refreshments will be served.
"Veterans Day is one of those holidays we would be remiss not to acknowledge or celebrate here at the College," commented Dr. Jimmy Hodges, Calhoun President. "Calhoun has a tremendous amount of respect for our Veterans and we make sure to acknowledge it not only by celebrating their brave sacrifices and accomplishments but also through providing them with services and training that will help them to transition into the civilian workforce, or even hobbyist courses if they are retired. We are thrilled about our upcoming program and hope to see many in attendance," added Hodges.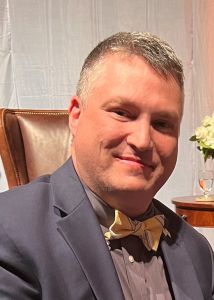 This year's event will feature retired Sergeant (SGT) Michael David Gronkowski as its guest speaker. Raised in a military family, Gronkowski grew up in a small town called Larksville, Pennsylvania. As the son of a former Air Force soldier, it was natural that he joined the United States Army Reserve and later left for basic training after his junior year of high school. In 1993, he became active duty in the Army and spent the next 8 years in various locations including Germany, Korea, New York, and North Carolina. SGT Gronkowski left active duty in 2001 to pursue other endeavors and returned back to active duty again at the end of 2005. He served another seven years at the ARMY Signal School in Fort Gordon, Georgia, as well as in Fort Carson, Colorado. While stationed in Colorado he fulfilled two 1-year deployments. The first was in Iraq, and the second was in Afghanistan. Upon returning from his second deployment in 2012, SGT Gronkowski decided it was time to retire from the Army for good and relocate to Huntsville, Alabama.
Since moving to Alabama, SGT Gronkowski became actively involved in the veteran's community with memberships in the American Legion, 40&8, Iraq & Afghanistan Veterans of America, and the Veterans of Foreign Wars (VFW). As a member of the VFW, he has held various key leadership positions at the post and district levels, and as a result, he was elected as the district commander overseeing 12 posts in North Alabama as well as 1,800 veterans.
His awards and decorations include the ARMY Commendation Medal Third Award, ARMY Achievement Medal Seventh Award, National Defense Medal Second Award, Army Good Conduct Medal Fifth Award, Iraq Campaign Medal with two Campaign Stars, Afghanistan Campaign Medal with Two Campaign Stars, Global War on Terrorism Medal, Korean Defense Medal, Humanitarian Medal Second Award, NCO Professional Development Ribbon, Army Service Ribbon, Overseas Service Ribbon 4th Award, NATO Medal, Air Assault Badge, Drivers Badge with Wheel & Track Clasp, German Weapons Badge Bronze Award. He and his wife Bonnie currently reside in Meridianville, Alabama, with their three rescue animals Jackson (cat), Charlie Brown (dog), and Ranger (dog).
In addition to SGT Gronkowski's presentation, the program will also include the presentation of colors by Alabama A&M's ROTC, as well as musical selections honoring veterans, performed by the Calhoun Chorale.