Chamber Kicks off New Classes for Three Leadership Development Programs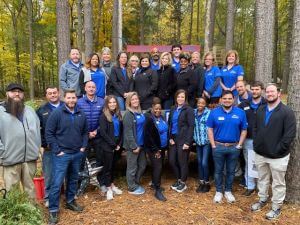 The Excellence in Leadership program is the flagship program of the Chamber's Leadership series. The program was designed to identify, orient, develop and network existing and emerging leaders with the goal of enhancing positive growth in the area business community. The 2022-2023 class features 35 professionals from across Morgan County and meets monthly for 10 months to focus on topic-specific content. The class kicked off August 26 with a session focusing on "getting to know you" exercises. They also heard from Dr. Joanna May Rouse with Eagle Center for Leadership about the Make A Difference personality profile to help better understand and communicate with those around you.
The September gathering focused on caring for our community. The day started at the Chamber with health and human service professionals discussing their organizations and the work they do. Speakers included Sue Terrell from Hands Across Decatur, Leah Brown from Mosaic Mentoring for North Alabama and the group toured the nearby Neighborhood Christian Center with Pam Bolding. The day ended with Judy Smith, Area Administrator with the AL Department of Public Health, explaining the wide scope of public health issues in our county, the value of preventative healthcare and the impact of health epidemics on the business community.
In October, the group visited GoFAR USA Park for team building. After lunch, the group heard from Doug Bachuss about leadership goals and community projects, Mrs. Frances Tate about the CEOTA/Civil Rights Museum Project, Sonya Clemons about the Singing River Trail and Laura Burdeshaw, Program Manager at Another Chance Medical Stabilization. Excellence in Leadership is presented by Nucor Steel Decatur.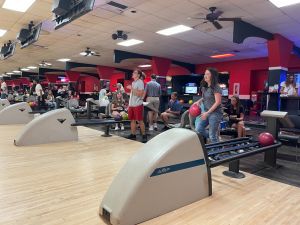 Aimed at 10th and 11th grade students from across Morgan County, Edge Student Leadership was created to expose the students to leadership opportunities in a creative and challenging manner, providing the students with the tools necessary to develop individual leadership skills. The program also encourages students to be a positive influence in their schools and to serve in the community. The class kicked off at AMF River City Lanes in August. This group of 35 sophomores and juniors spent the night bowling and getting to know each other.
In September, the group visited GoFAR USA Park for team building. The students were broken up into groups to conquer smaller challenges that required clear communication, strategy and working together. After a picnic lunch sponsored by Moe's Original BBQ, Taylor Simmons of Horizon Point Consulting, Inc. discussed with the group the results of their Strong Interest Inventory to help identify their interests when choosing a career path. Edge is presented by Nucor Steel Decatur and Gold Sponsors Joe Wheeler EMC and the Morgan County Commission.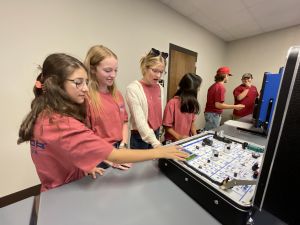 Equip is a leadership program for 8th grade students from across Morgan County exposing them to post-high school college and career opportunities in the skilled trades as well as programs that require less than a four-year degree. Equip is broken up in two sessions (fall and spring) and features approximately 25 students in each session. The program kicked off in September at the Cook Museum of Natural Science with a focus on learning career and financial skills to help prepare them for a successful future. They learned how to fill out job applications, do mock interviews and how to budget and make smart money choices.
The gathering in October focused on opportunities available at both Calhoun Community College and Pryor Field Airport Authority. After starting the day in the Contractor Service & Fabrication, Inc. Board Room at the Chamber, the group made the short drive across the bridge to the Decatur Campus of Calhoun Community College where students learned about programs in Automotive Technology, Health Science including Dental, Nursing, & EMT. They also visited areas in Advanced Manufacturing, Machine Tool Technology, Residential & Commercial Electrician, Welding and HVAC. This is always a great opportunity for these students to see what Calhoun has to offer as the students start making decisions about their future. After the tour, they had lunch at Pryor Field Regional Airport and Flight Center followed by a presentation from Airport Manager Adam Fox. He discussed careers and jobs in aviation, the history of the airport and his own personal dream of becoming a pilot. The day ended after a tour of the airport which included getting to see planes fly in and out. Equip is presented by Nucor Steel Decatur.