Students Attend Endless Opportunities Hands-on Career Expo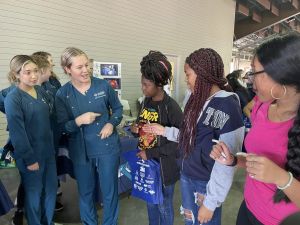 On October 13, more than 1,600 eighth grade students from across Morgan County took part in the Chamber's annual Endless Opportunities hands-on career expo, giving students the chance to explore the wide range of possible careers paths available to them in their own backyard. The event is made possible by Presenting Sponsor 3M of Decatur.
Students got the chance to take part in career opportunity "worlds" connected to the 16 career clusters identified by the State of Alabama. Each student's worlds are a result of their interest inventory captured through the Kuder Navigator System – administered as part of the school curricula – and student choice.
Career worlds include Agriculture Food and Natural Resources; Architecture and Construction; Arts, A/V Technology, and Communication; Hospitality and Tourism; Marketing, Sales and Service; Business Management and Administration; Finance; Education and Training; Government and Public Administration; Law, Public Safety, Corrections and Security; Health Science; Human Services; Information Technology; Manufacturing; Science, Technology, Engineering and Math (STEM); and Transportation, Distribution and Logistics. More than 50 industries were on hand to engage students in activities that will help explain how careers in each area are developed and how to prepare for each field of study. After attending the expo, students are better equipped to complete their four-year plan, now part of each student's high school requirements.
On October 14, tenth grade students from all three school systems in Morgan County were able to attend Endless Opportunities to meet with local businesses and industries to see what careers fit their interests and skills. These students were not able to attend when they were in eighth grade due to COVID. It was great to see how much the students really enjoyed the interactive booths.
Thank you to our Gold Sponsor Sample Orthodontics Dr. Lew B. Sample and Golden Ticket Sponsor Early Services, Inc.