Toray to Double Production Capacity at its Carbon Fiber Plant in Decatur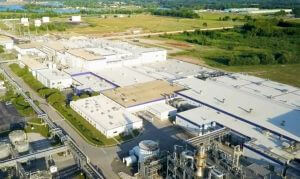 (News Release) - Toray Composite Materials America, Inc., the world's leading producer of carbon fiber and advanced composite materials, is pleased to announce a significant upgrade of its carbon fiber facility located in Decatur, Alabama. The $15 million investment will double the production capacity of the high-performance TORAYCA™ T1100 carbon fiber and add critical redundancy. The upgrade is set to begin in April 2023 and completed by September of the same year.
This upgrade is in response to the rising demand for defense applications in the United States, significantly increasing the availability and shortening lead-time of TORAYCA™ T1100 next-generation intermediate modulus plus (IM+) carbon fiber. This material is a critical component in several US Department of Defense (DoD) weapon systems, as well as structural applications in Future Vertical Lift (FVL) platforms.
"We're very excited about adding capacity and flexibility at our Decatur plant for our defense customers," said Dennis Frett, President of Toray Composite Materials America. "Not only are we doing our part to reinforce the country's industrial base and the Administration's "Made in America" priorities, but we're also strengthening our country's domestic capacity for advanced materials technology."
Toray is the largest producer of carbon fiber in the United States and has a fully integrated supply chain. The Decatur Plant has operation lines from precursor to carbon fiber and is one of three Toray manufacturing facilities. The company has other locations in Tacoma, Washington and Spartanburg, South Carolina, producing precursor, carbon fiber, and prepreg. Toray's comprehensive portfolio of carbon fiber composite materials have been supporting customers in aerospace and defense, industrial, and automotive for over three decades.