Emerging Leaders: Personal Development for Professional Growth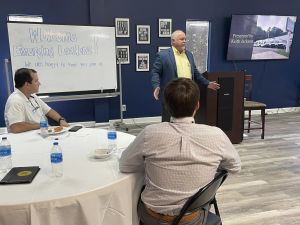 Business owner and leadership trainer, Keith Jackson spoke to the Chamber's Emerging Leaders event on October 5, at the training center for Jackson Plumbing, Heating & Cooling. Keith explained how personal development has made a difference in his life and business and how you can use it learn new skills to promote professional growth.
Keith is the founder and owner of Jackson Plumbing, Heating & Cooling in Decatur. He was born and raised in Hartselle and graduated from Morgan County High School. He earned an associate degree from Calhoun Community College and opened Jackson Plumbing Inc. in 1987. He added HVAC in 2016 and purchased Drain Pro in 2018. This year, he was named the 2022 Raymon Baker - John Cook - Ralph Jones Small Business Person of the Year. Keith's personal mission statement is to teach people not only a trade, but how to have a happy, successful life.
Emerging Leaders is made possible by presenting sponsor Stovall Marks Insurance, and welcomes anyone to the in-person series to grow as a leader and connect with other young professionals in the area. Our next Emerging Leaders event will be on Wednesday, December 7.