Hartselle City Schools Breaks Ground on New Crestline Elementary School
On Friday, September 30, Hartselle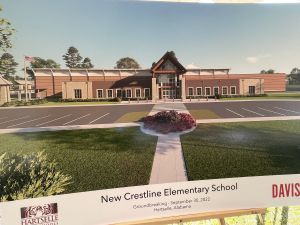 City Schools broke ground on a new Crestline Elementary School on the same property as the current campus, just south of the existing structure. Construction will soon begin on a 105,000 square foot building with 65 classrooms to serve over 1,000 students in grades Pre-K through fourth grade. The current school, built in 1958, is home to 565 students and houses 41 classrooms.
A portion of the existing building will be retained to allow for growth in the district. The construction cost of the new building will be approximately $36 million. Davis Architects is the design team for the project and Bailey Harris Construction is the general contractor. The project is scheduled to be completed in time for students to move into the new facility in August of 2024.
This is where you place your content for your new blog.