Partners-In-Education Breakfast Connects Businesses and Industries with Local Schools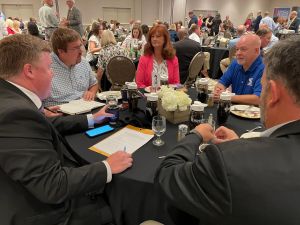 More than 150 business leaders, principals and school personnel came together for Chamber's annual Partners-In-Education Breakfast & Work Session on August 18 at the DoubleTree by Hilton.  During the work session, business and industry leaders worked with the local school they are partnered with to develop plans on how they can work together to support their students. Past partnerships include tutoring, mentoring, serving as classroom aides, helping host school events and fundraising.
The Partners-In-Education program links area businesses and industries with schools in Decatur, Hartselle and Morgan County to provide educational opportunities for the students and increase the awareness of area businesses and industries. Partnerships also heighten awareness of present and future job needs, help improve the education of future employees and customers and increases understanding of the quality and needs of public-school systems. Click here to see the full list of the Partners-In-Education for our three school districts.
The Partners-In-Education program is one of the Chamber's longest running workforce and education initiatives, and our entire community – individuals, businesses, industries, and more – has a vested interest in the success of our young people and school systems. This year's breakfast was presented by Redstone Federal Credit Union. Silver sponsors are 3M, Ascend Performance Materials and Athens State University.