How to Become a Better Leader in Today's Complex Work Environment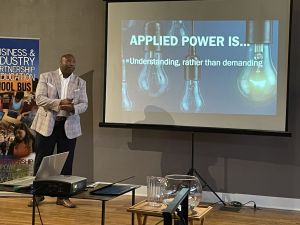 At the Chamber's Breakfast & Biz development event on August 11, motivational speaker and author Lemzel Johnson provided tips on how to become a better leader in today's complex work environment. Lemzel kept the crowd of around 50 people engaged with demonstrations that show how to focus on being a better you so you can encourage, inspire and lead others.
Johnson is a sought-after speaker and trainer for executives, businesses, groups and teams. He also owns his own company, LifeVersations, LLC and is the lead coordinator for the City of Decatur Youth Services Department.
Thank you to Presenting Sponsor Redstone Federal Credit Union and Host Sponsor The Magnolia Room. The Chamber's Breakfast & Biz professional development training and networking session provides ongoing support for our local business partners. Stay tuned for our next Breakfast & Biz event, which will be on December 8.