Emerging Leaders Tour Pryor Field Regional Airport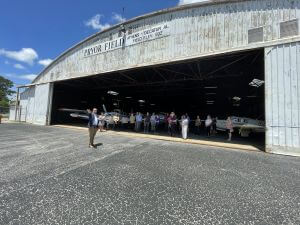 We had a great turnout on August 3, at our combined Emerging Leaders/Workforce Coalition event at Pryor Field Regional Airport. Pryor Field Manager Adam Fox spoke about the history of the airport, the economic impact it has on our community and plans for growth and expansion. We also learned an air show is scheduled for June 2023. Fox took the group on a bus tour of the facility, and we had the opportunity to watch a few takeoffs and landings.
Pryor Field Regional Airport in Tanner is one of the busiest general aviation airports in Alabama with more than 9,000 visitors each year. It has 134 employees and provides economic activity of $14.8 million annually. Pryor Flight Center, located at the airport, provides aircraft services on a daily basis. Both are managed by Pryor Field Airport Authority.
Emerging Leaders is made possible by presenting sponsor Stovall Marks Insurance, and welcomes anyone to the in-person series to grow as a leader and connect with other young professionals in the area. Our next Emerging Leaders event will be on Wednesday, October 5.