The Chamber Celebrates New Teachers in our Community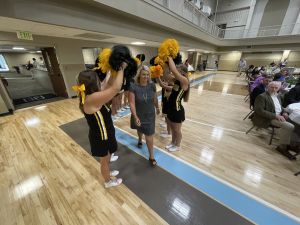 One of the most important professions that gives life and character to a community are educators committed to serving students in our classroom. In late July, the Chamber celebrated those joining systems in our area who have decided to help shape the next generation of leaders.
On day one of our two-day event held at First Baptist Church, the Chamber welcomed new teachers, principals and administrators from Morgan County Schools to recognize 80 new teachers in our county system. The event gave principals the opportunity to introduce their new team members to those in attendance, as well as Superintendent Robbie Elliot to share his thoughts on the upcoming year.
On day two, Decatur City Schools took the stage and welcomed administrators, principals, and educators to celebrate more than 120 new members of their workforce. Principals introduced their new team members and Superintendent Dr. Michael Douglas shared his thoughts on the upcoming year.
We are thankful for community leaders, administrators and local industry leaders who attended the breakfast and helped us celebrate our new teachers. Thank you to our Presenting Sponsor Nucor Steel Decatur, Gold Sponsor Alabama Education Association and Silver Sponsors 3M, City of Decatur and Morgan County Commission and to our Guest Services Sponsor Alabama Credit Union. New Teachers, principals and staff left with gift boxes from 3M, swag bags from Alabama Education Association and Alabama Credit Union gave all attendees a tumbler. We love spoiling our teachers and wish all our schools a wonderful year.