City of Decatur to Host Public Input Session for Upper River Road & Old River Road Project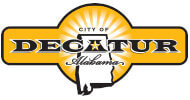 The City of Decatur's Engineering Department, in partnership with Garver Engineering, will host a public input meeting for residents regarding the Upper River Road and Old River Road project on Wednesday, August 10, from 5:00 p.m. – 6:00 p.m., at Turner-Surles Community Center.
The input session will be a come-and-go event for attendees to share their thoughts on the corridor project. Feedback will be discussed in a small group setting with a project liaison. Representatives of the City of Decatur and Garver Engineering will be available to answer any questions.
In 2020, Garver Engineering did a study that found that traffic turning right off Upper River Road onto Alabama 67 is a major concern. Last year, the City Council approved Garver Engineering to perform engineering and design for the Upper River Road and Alabama 67 intersection for $126,810.
For more information, please contact the City of Decatur's Engineering Department at (256) 341-4875.